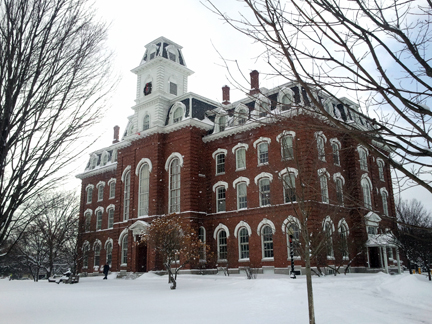 The MFA in Visual Art program would like to invite the community to join us for presentations with our Visiting Artists, as well as student exhibitions, January 28 through February 3.
Graduating Student Exhibition – VCFA Gallery
Tuesday, January 31 – Friday, February 3. Hours: 9am-6pm. Gallery may be closed for critiques and reviews as determined by the program.
Opening: Monday, January 30, 8-9:30pm, VCFA Gallery
The daily exhibitions are free and open to the public most days. Please be considerate of critique groups and closures as needed for academic purposes.
New and Returning Student Exhibitions – Alumni Hall
Sunday, January 29 – Friday, February 3. Hours: 9am-6pm.
Opening: Saturday, January 28, 7-8:30pm, Alumni Hall
Gallery may be closed for critiques and reviews as determined by the program.
Visiting Artists Presentations:
Art, Place and Place-making
Sunday, January 29, 10:30am to noon,  College Hall Chapel
Artist-in-Residence, Mildred Beltré, will discuss her practice.
Mildred Beltré, is a Brooklyn-based artist, mother, and popular educator working in print, drawing, and participatory politically engaged practice to explore facets of social change. She is interested in exploring political movements and their associated social relations and structures. Her most recent work involves looking at revolutionary theorizing and posturing through a feminist lens.
Beltré's selected national exhibitions include: International Print Center New York, NYC; Burlington City Arts, Burlington, VT; Five Myles Gallery, Brooklyn, NY; BRIC, Brooklyn, NY; Smack Mellon, Brooklyn, NY; Freedman Gallery, Albright College, Reading, PA; University of Colorado, Boulder, CO; Art in General, NYC ; and international group shows at Projecto Ace, Buenos Aires, Argentina; Hollar Gallery, Prague, Czech Republic; Brun Leglise Gallery, Paris, France; among others.
Her work is included in the Special Collections of the Brooklyn Museum, Brooklyn, NY, and the Walker Art Center, Minneapolis, MN, among others.
She has been awarded residencies at the Lower East Side Printshop, the Vermont Studio Center, and the Santa Fe Art Institute. She has received grants from the New York Foundation for the Arts, the Brooklyn Arts Council,  Brooklyn Foundation, and the Rema Hort Foundation, among others.
Beltré is the co-founder of the Brooklyn Hi-Art! Machine, an ongoing socially engaged collaborative art project in Crown Heights, Brooklyn that addresses gentrification and community building through art-making.
Waiting/Welcome
Sunday, January 29, 7pm, College Hall Chapel
A poetic meditation/reading/screening performed by MFA in Visual Art faculty, Viet Le and Faith Wilding with slides of images of colonial subjects from National Geographic, rephotographed and titled by faculty member, Michelle Dizon. A discussion with the audience follows.
Brooklyn Hi-Art! Machine: Community and Collaboration
Wednesday, February 1, 1-2:30pm, Chapel, College Hall
Artist-in-Residence, Mildred Beltré, and her collaborator, Visiting Artist Oasa DuVerney, will discuss their collaborative work.
The Brooklyn Hi-Art! Machine is a socially-engaged project started in 2010 by artists Mildred Beltré and Oasa DuVerney. Dubbing ourselves the "Official Unofficial Artists in Residence" of our block, we set up tents, tables, and art supplies on the street outside our apartment building and invited anyone walking by to stop and make art with us. In this way we co-founded the Brooklyn Hi-Art! Machine (BHAM), a collaborative public art intervention that explores art-making as a community-building tool.
Often when a neighborhood is undergoing rapid change, outdoor space is criminalized for some while being preserved for others. One thing that the BHAM seeks to do in its insistence to be outdoors, and particularly on the street, is about claiming the street as a generative space for people of color. Public and collective projects are a way of combating the social isolation that leads to suspicion amongst neighbors as opposed to cooperation. By engaging our neighbors on the street, we facilitate conversation and trust which is often lost when a community undergoes significant transition and upheaval. Our vision is to facilitate a public space for community members—often silenced by socio-economic circumstances—to get informed, feel empowered, create, and organize to take positive action.
As artists it is important to us to not create work solely for the gallery, but also to use our practice to make artwork with and for our community. By creating weavings and art activities on our sidewalks we provide a visible and participatory space for Crown Heights residents of all ages to see and interact with each other. These workshops serve as a creative outlet for our neighbors and provide an opportunity to engage with each other outside of the daily routine and thus encourage a new kind of interaction, one leading to new social relations based on mutual respect and understanding. The fence weavings provide an opening for that conversation amongst neighbors to begin.
Oasa DuVerney is a Brooklyn-based artist and mother, born in Queens, New York. Selected exhibitions include "The View From Nowhere," Rush Arts Gallery, NYC (2016); "The Window and the Breaking of the Window," Studio Museum in Harlem, NYC (2016); The Brooklyn Biennial, BRIC, Brooklyn NY (2016), "Crossing the Line," Mixed Greens Gallery, NYC (2013); "March On!," Brooklyn Academy Of Music (2013); "Through A Glass Darkly," Postmasters Gallery, NYC (2012).
DuVerney was awarded the Rush Philanthropic Foundation Artist Residency (2016), Smack Mellon Studio Artist Residency (2014-2015) the LMCC Workspace program residency (2012-2013), Brooklyn Foundation Grant (2016) a grant from the Brooklyn Arts Council (2011), a grant award from the Citizens Committee For New York City (2010, 2013), and the Aljra Emerge Fellowship by the Aljira Center for Contemporary Art (2007).
Media and Publications include The Independent, UK (2016), PIX 11 News (2016), Hyperallergic (2015, 2016), The Guardian, UK (2015), Palestine News Network (2013), The New York Times (2012, 2011), and The New York Daily News (2010). She received her B.F.A. from the Fashion Institute of Technology and her M.F.A. from Hunter College, CUNY.
Visiting Artists/Scholars during the Visual Art residency:
Damali Abrams, Ujju Aggarwal, Eshrat Erfanian, Nils Karsten, Suzy Spence, Rodrigo Valenzuela, and John Willis.
https://visualark.vcfa.edu/wp-content/uploads/2017/01/vcfa-college-building-72dpi1.jpg
324
432
Thatiana Oliveira
https://visualark.vcfa.edu/wp-content/uploads/2018/09/VCFA_logo_nbkgd.png
Thatiana Oliveira
2017-01-25 18:24:22
2017-01-25 18:24:22
Residency Public Events | 2017