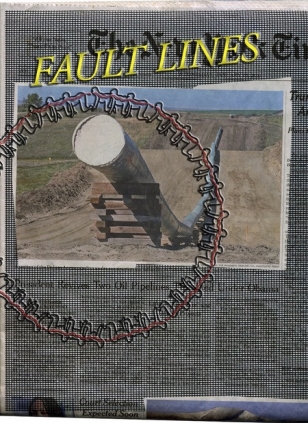 A.K. Burns
FAULT LINES
February 26 – April 9, 2017
Opening reception: 
Sunday, February 26th
, 
6 to 8pm
"…it was ambiguous, two-faced. What was inside it and what was outside it depended upon which side of it you were on." — The Dispossessed by Ursula K. Le Guin
Knowing is a kind of death, halting pre-lingual sensitivities. Knowing what you know, all other knowns precipitate, presuming relative truths, knowledge, belief, reality… your norm. Admitting a lack of knowledge means accepting an inability to penetrate. To be rendered impotent, to be released.
In a series of three, nearly identical partitions, acting jointly as thresholds (gates) and obstacles (fences)— the language embedded in their steel bars reads, respectively; KNOWN KNOWN, KNOWN UNKNOWN and UNKNOWN UNKNOWN. The gates, constructed of sandblasted steel, mimic the heavily painted black fences that dominate the New York City landscape. The text, a reference to a statement made by Donald Rumsfeld (in February 2002) at a press conference questioning what substantiation exists for the alleged 'weapons of mass destruction.' Rumsfeld uses this illusive linguistic detour for the strategic production of fear.
A figure looms in She Was Warned, as a dystopic reimagining of Artemis of Ephesus, representations of which articulate the goddess with a torso covered in numerous breasts. Artemis, also known as Diana, is a goddess of the hunt, the natural environment, the moon, women, and childbirth. The figure's breasts are rendered as crudely cast Gatorade bottles. Topped with the iconic cap, like bright orange nipples, the bottles are hung from a grid of rusted steel typically used to reinforce concrete. Unlike breast milk or water, which provided basic sustenance, Gatorade—the first sports drink, invented in 1965—boasts enhancement. Built with industrial materials She is  both figurative and architectural, a shell of her former self, she is nearly depleted. Still she gestures with an offering, and dangling from her gloved palm she presents a gold-plated IUD.
Imaged on the walls are combinations of grids and holes, some opaque and some that let the breeze in. Metaphorical and literal (window) screens, objects built to block access, are perforated with openings, leaks, and passageways for anything that makes it thru. These material collages include bits of outdoors equipment, and are punctuated, held together by pairings of grommets. Following the path from entry to exit the orifices are sometimes threaded with chains of linked items. Adhered directly to the walls are a series of landscapes extracted from a coverpage of the New York Times (of the unfinished Dakota pipeline in a desolate western landscape). Abstracted in scale and without evidence of the pipeline, the sites appear ambiguous and hard to read as unified.
Leave No Trace, 2016, is a record. A limited edition experimental audio-based work, pressed on vinyl and packaged in a zip-bag with a pair of nitrile gloves and an accompanying poem. The recording consist of two (unlabeled) tracks, one per side that combines ambient environmental recordings, vocalization, sounds generated from various found materials and an old electric guitar. Leave No Trace, is the soundtrack for a forthcoming installation, that is part of a cycle of related works that includes A Smeary Spot (2015) and Living Room (2017) currently on view at the New Museum. The title and the poem (Leave No Trace) reference wilderness ethics but also notions of unregulated sites and bodies. In questioning what is deemed natural or naturalized, it points to the privileges and subjugation of bodies and actions that go unrecorded.
A stray foot wanders off, holding its ground, bodiless, a host to a quotation scrawled in wire.
This is A.K. Burns' third solo exhibition at Callicoon Fine Arts. Burns is in residence at the New Museum with 
Shabby But Thriving
, an exhibition open till 
April 23
. This installation includes the two-channel video, 
Living Room
 (2017), which follows on the heals of 
A Smeary Spot
 (2015) exhibited at Participant INC, NY and the Portland Institute of Contemporary Art, Oregon. This series of works draws on theater, science fiction, philosophy, and ecological anxieties. Originally from Northern California, Burns is an interdisciplinary artist and educator residing in Brooklyn, NY. Currently a Radcliffe Fellow at Harvard University, Burns is also a 2015 recipient of a Creative Capital Foundation Visual Arts Award. In 2008, Burns co-founded the artists activist group W.A.G.E. (Working Artists and the Greater Economy), and in 2010 released the feature-length socio-sexual video portrait 
Community Action Center
 in collaboration with A.L. Steiner. Having exhibited internationally at venues such as The Tate Modern, The Museum of Modern Art, and the Los Angeles County Museum of Art, Burns work insists that matter matters, that the body is a site of imminent negotiation, and that unexpected affinities between material, medium and media offer space to rework economies of gender, labor, ecology and sexuality
Callicoon Fine Arts
 is located at 49 Delancey Street between Forsyth and Eldridge Streets. Gallery hours are 
Wednesday
 to 
Sunday
, 
10am to 6pm
. The nearest subway stops are the B and D trains at Grand Street and the F, J, M and Z trains at Delancey-Essex Street.
Callicoon Fine Arts
49 Delancey Street
New York, NY 10002
https://visualark.vcfa.edu/wp-content/uploads/2017/02/unnamed.jpg
619
450
Thatiana Oliveira
https://visualark.vcfa.edu/wp-content/uploads/2018/09/VCFA_logo_nbkgd.png
Thatiana Oliveira
2017-02-16 22:31:07
2017-02-16 22:31:07
Former Visiting Artist AK Burns @ Callicoon