We Cover the Waterfront:
conversations with VA alumnx, faculty and guests
Alumnx Profile: Clea Felien (W 07)
Clea Felien has been exhibiting her work in Midwest and East Coast galleries and museums for over fifteen years. Including group shows at the Museum of Modern Art (MoMA) in N.Y., the Massachusetts Museum of Contemporary Art (Mass MoCA) as a featured artist, Mia (the Minneapolis Institute of Art, The Figge Museum, as well as gallery representation in Chelsea, New York.
Felien has thirteen years of study in art schools. She received her BFA from the Minneapolis College of Art and Design and her MFA from the Vermont College of Fine Arts in painting with an emphasis in art theory. She studied five years at the Atelier in Mpls (a 19th Century French Academic realist portrait painting school) and one year of anatomical drawing at the Art Students League in New York City. Her work is predominantly painting and drawing. Felien is Assistant Professor of Studio Art at Sonoma State University, California.
How has the pandemic affected your practice?
Before the shelter in place order I had been working on a series of portraits of the billionaires like Jeff Bezos, Bill Gates, the Kanders (who made their billions on tear gas) and then also the Sacklers, the opioid billionaires. I was in the middle of finishing up this series during the pandemic, then I took a break because I was floored by what was going on. I think all of us were. I started paintings of houses, little angelic houses surrounded by dark scary colors for Positive Pandemic Experiment (PPE), the shelter in place Instagram show that I was in.
Before, every other weekend I would go out and look at other people's work. I can't do that now because I don't get to leave my house really. When I look at stuff online it's absolutely not the same, especially painting. I mean any art really, painting or sculpture, you want to get in there and really see it. And that is painful not to be able to see real art.
What motivated you to make the Colonizer paintings? 
The most profound thing for me was the Black Lives Matter movement and all of the demonstrations. I'm from Minneapolis and George Floyd was murdered six blocks from where I grew up. I know that neighborhood like the back of my hand. My son and my niece live in my dad's house there now, on Powderhorn Park, which is right where all the looting happened on Lake street, a block and a half from their house. That affected me greatly.
My niece is black. White supremacists broke the fence in our backyard screaming "Come get the N-words! Let's get the N-words!" My son and some neighbors are still patrolling that neighborhood because the police won't go there now.
So, I started thinking – where does this come from – you know? I started looking at all these colonialists and thinking this is where it started for this country, for what we're dealing with now, for the legacy of slavery. I'm just going to paint these guys. I started painting all these colonialists and leaving them sort of half-finished and gnarly – they are like ghosts. They kind of fade away.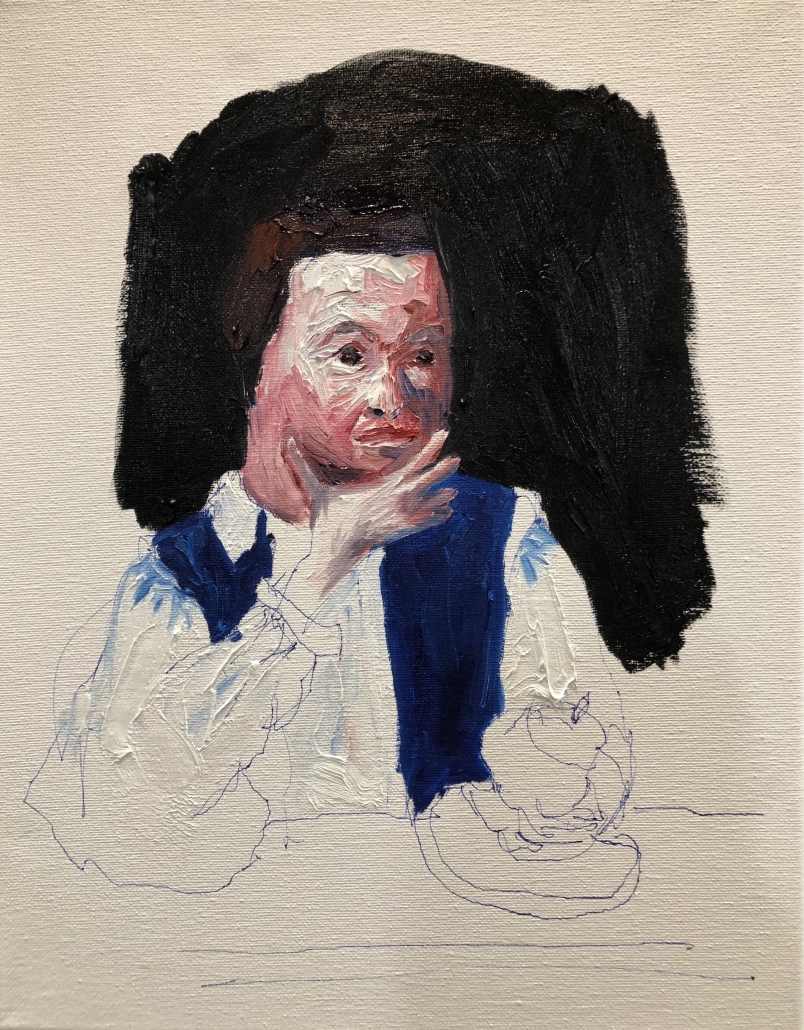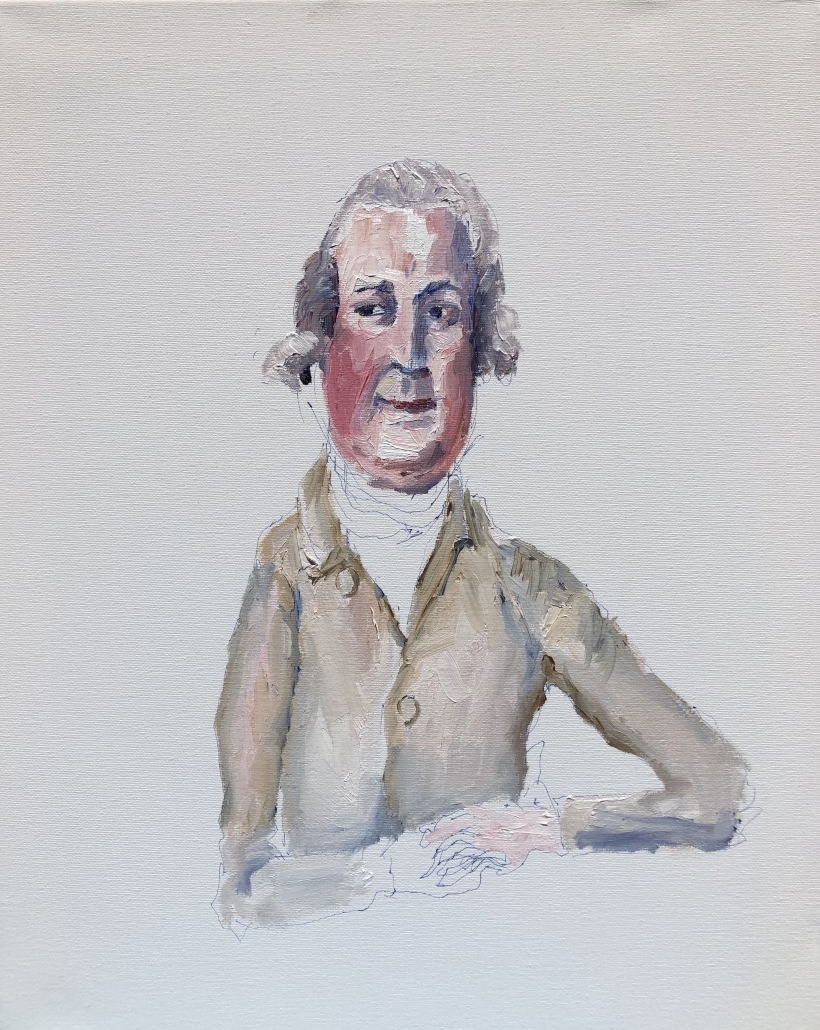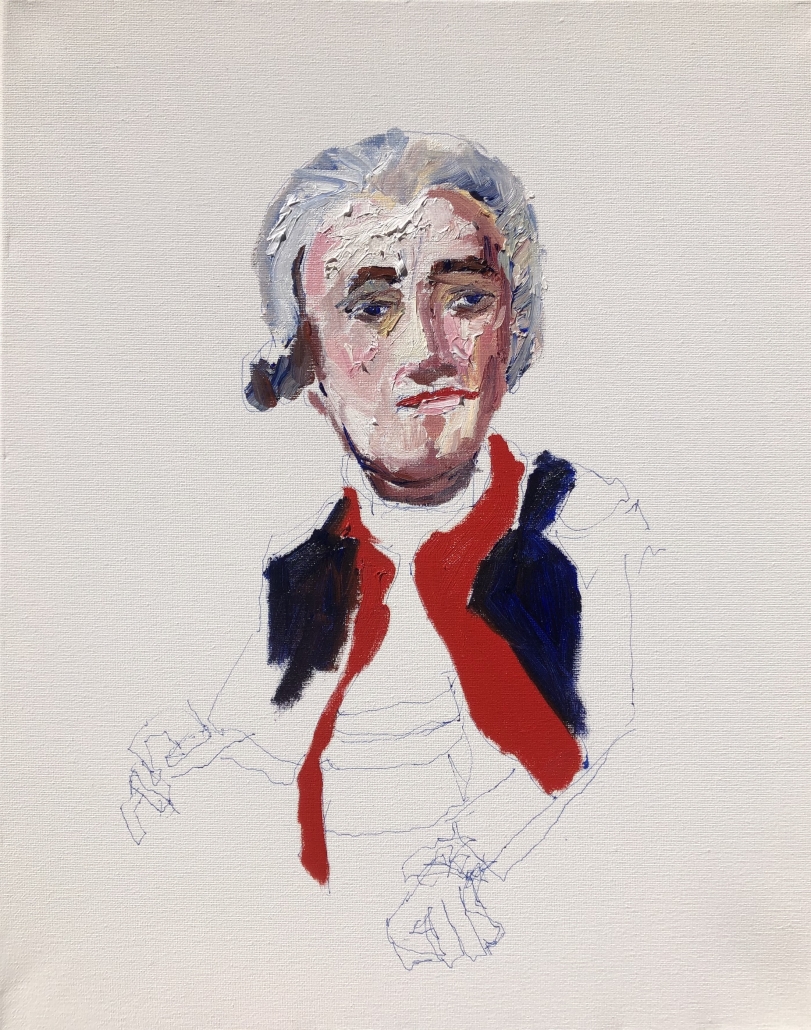 Could you tell us about the course you taught at Sonoma State on Community Involvement?
There was an abandoned, unused courtyard near the Art Department building where nothing was growing, and trash was accumulating. I asked the students: what do you want? What do you need? They didn't have a hangout space or place to eat, so we thought, let's create a space. That is the thing I am most proud of. I got a grant and we put in six raised vegetable beds. The students did all the research and digging and planting. They selected all the plants and found raised beds with their own filtration system where you only have to water once a month. They covered one of the walls with a mural they made and built furniture from pallets.
I have a hard time with a lot of social practice. To me, social practice is actually making a change, making a difference by doing something physical that will benefit people. I was raised by political activists and I believe in political activism that actually does something. The students took junk and made something beautiful out of it that other people can use. They created their own community.
Community Involvement is the actual title of the class and I tried to talk to them about how social practice can actually be something real, like you can really do something. It doesn't just have to be conceptual or theoretical, and to be honest, narcissistic. That kind of politics is always hard for me, there's nothing there except: "I'm so smart". I see a lot of social practice in the art world that doesn't make any sense. I think that sometimes it becomes just too…just us. You know, just for us. That's boring to me. But then there are artists that I love, like Mierle Laderman Ukeles, who shook the hand of every sanitation worker. To me that's brilliant. That's a real thing, an actual connection. That is a manifestation of something important and beautiful that can change the way people think.
How do you know when to pursue an inkling or idea – when do you know you have to follow that thread?
I don't always know. Sometimes I'll take notes, sometimes I'll just doodle. When I had an actual studio space I rented, that wasn't in my house, I had a schedule and I would just get in the car and go. Even if you just sit on the couch there, or take a nap there, it's something. Because you never really do know.  Sometimes I'll just doodle and sometimes it just hits you.
I think the colonialists started because I was just so mad at them. I thought I'm going to do a nasty little drawing and then I thought, this is fun – I'll do more! That's how the billionaires came about. I was so mad about those guys as well.
Do you think artists are necessary to resistance movements?
Yes, I think that resistance movements are necessary to artists. In my BFA seminar class I had my students write a manifesto. I gave them examples of manifestos that had been written throughout art history and said you guys write your own. They said on what? I said that's up to you. And almost all of them wrote about not being passive in this time – that now was the time to be active and how art needs to function that way.
I think many of us [artists] are outliers and we examine society. I feel like part of our job is to sit back and watch and ask: what's going on? What I think makes art really powerful is if it's a reflection of what's going on in society.
Is collaboration a part of your practice?
I'm working on a collaboration with Robert O'Connor (VA 06). We will have a show in the spring sometime at The Atlantic Highlands Community Center in New Jersey. While artists generally hope that their work will be shared with, and seen by other human beings when it's complete, the act of making art is very often a solitary and private act. Robert and I challenged each other to disrupt that process and attempt to bring each other into this often intimate and solitary space.
We have been working together on this series of paintings since 2018. Every six months we'll mail one to each other. At first, they were terrible, it was so painful. Now they are getting really interesting. We realized it's really hard to work collaboratively because you have to paint over your friend's work! And that's not easy. My way of working is to just tear into something, and Robert is the opposite.
Human beings are messy and complicated, collaborations are messy and complicated. Sometimes they are terrible and sometimes they are fantastic. I think most of the time they are both things. I did some of my favorite stuff in collaboration. I also need to keep my own practice and not put too much into the collaboration.
How have your experiences as a student at VCFA shaped your current practice?
VCFA changed my life. I met great people and saw amazing art and lectures. I made amazing friends and had so many opportunities to show my work and be a visiting artist because of VCFA. I also  learned so much about art and how my art fits into the world.
What are you listening to, reading, watching, looking at?
I am looking at work by my friends: Jim Denomie and Cate White. That inspires me.
Books: Ta-Nehisi Coates – 'Between the World and Me', David Mitchell 'The Thousand Autumns of Jacob De Zoet'
Magazines & newspapers: The Atlantic, The Nation, The New York Times, The New Yorker
Best tv show ever: 'Lovecraft Country'
KALX UC Berkeley radio DJ Sex Routines is great. I have been loving 70's muzak, it calms me down during this terrible administration. And D'nice.
Do you have any food or drink obsessions lately?
For some reason I love poached eggs right now.  Soft comfort food I guess. Also 1 super strong cup of coffee with heavy cream.
What three skills do you think are necessary for a human to navigate and participate in the world?
Open heart, open eyes, open mind.
Cousin Lori & Mascot by Clea Felien