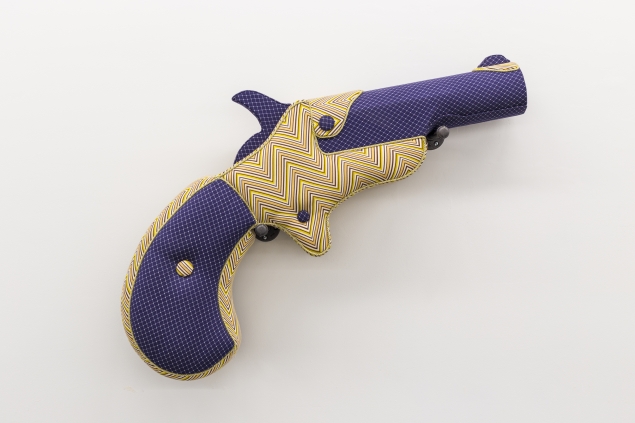 Guns to Art Benefit Show
November 7-17, 2017
Reception & Live Auction: Friday, November 17, 4-7 pm
Decommissioned firearms aren't the most pliable artistic medium, but that hasn't stopped faculty and students at Santa Fe Community College from reshaping them into stunning artworks. They've been hard at work bending, slicing, shredding and melting old guns into sculptures, jewelry and even apparel. This fall, the art will appear at a special reception, live auction and silent auction in support of art and welding scholarships at SFCC and the 501(c)3 non-partisan organization New Mexicans to Prevent Gun Violence (NMPGV), along with juried works by artists from across the world that reflect on gun violence prevention. The Guns to Art Benefit Show runs November 7-17 at form & concept, with a reception and live auction on Friday, November 17 from 4 to 7 pm.
"When we first started, people would slam doors in our faces," says Miranda Viscoli, co-founder and co-president of NMPGV. "They'd say, 'You guys are not going to take our guns.' This event is a culmination of our efforts to shift the conversation towards responsible gun ownership and gun violence prevention." In August 2016, NMPGV launched a gun buyback program that invited gun owners to anonymously turn in unwanted firearms to New Mexico law enforcement. The Santa Fe Community College Art Department offered to turn part of the stockpile into art, and a collaboration with the Colorado-based RAWTools project called "Guns to Gardens" transformed the guns into gardening tools. Creations from both programs will appear in the live and silent auctions at the Guns to Art benefit.
NMPGV formed in 2013, the year of the Sandy Hook Elementary School shooting. Not long after the tragedy, a group of concerned citizens came together to face some tough realities about gun violence in New Mexico. They learned that in 2013, the third leading cause of death for New Mexican children was homicide, with 74% of those deaths occurring by firearm. Faced with this troubling statistic and others like it, the group leapt into action, designing programs that could curb firearm injury and death and promote responsible gun ownership through public health, education, advocacy and public awareness efforts.
"Over the years, we've developed a multipronged approach to build trust in the community," says Viscoli. "We know the police, we know local politicians on both sides of the aisle, we know the press, and we know community members." The programs they've launched include Murals to End Gun Violence and the Student Pledge Against Gun Violence, both of which engage  Santa Fe public school students. Since these initiatives started, there has been a 54% drop in local students bringing weapons to school. NMPGV also maintains an interactive map documenting incidents of gun-related violence and death in every New Mexico county. "Guns to Gardens" and the collaboration with Santa Fe Community College are also ongoing projects.
"We love the way NMPGV takes an intersectional approach to their projects and programs," says Frank Rose, Gallery Director at form & concept. "Guns to Art brings so many of these local stories together, and also invites artists from across the world to express powerful viewpoints on gun violence prevention." The Guns to Art Benefit Show opens November 7, coinciding with the launch of an online and in-gallery silent auction. Bidding for the silent auction will continue during the Guns to Art reception on November 17, and a live auction moderated by Jake Lovato will also take place at the event.
NMPGV, SFCC and form & concept would like to thank Mayor Javier Gonzales, the City of Santa Fe and Santa Fe Police Chief Patrick Gallagher for their support of this exhibition.
Learn more about the reception & live auction.
Enter the Guns to Art juried show.
435 S Guadalupe St, Santa Fe, NM 87501| 505.982.8111
https://visualark.vcfa.edu/wp-content/uploads/2017/11/6-Pickett-3-Rimfire-4.jpg
2400
3600
Thatiana Oliveira
https://visualark.vcfa.edu/wp-content/uploads/2018/09/VCFA_logo_nbkgd.png
Thatiana Oliveira
2017-11-02 23:52:52
2017-11-02 23:54:36
Alumnus Corey Pickett @ Form & Concept Benefit Show, Santa Fe